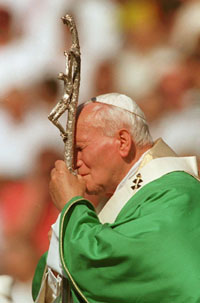 Pope John Paul II

"This evening or this night, Christ will open the doors to the Pope," said Angelo Comastri, the vicar of Vatican City, in a rosary service at St. Peter's Square, where up to 70,000 people were holding vigil, and stood in the chilly night. Wrapping themselves in blankets, many tearfully gazed at John Paul's third-floor windows, where the lights remained on early Saturday.

"Be Not Afraid"- the first words as Pope John Paul II on the day of his oridnation in St. Peter's. Words that I have and will continue to live by.
Our Father, Who Art in Heaven, Hallowed be Thy name, Thy Kingdom come, Thy will be done, on Earth as it is in Heaven. Give us this day, our daily bread, and forgive us our tresspasses as we forgive those who tresspass against us. And lead us not into temptation, but deliver us from evil. Amen.