Oscar vs. Puma
Thank You... it's Friday! the checks are printed, signed, and in the mail... and it's only noon. I'm good! No papercuts either from stuffing envelopes, what more can i ask for? i forgot my radio today, i am a little bummed. i thought about going home and getting it during lunch, but i might be better off just going without it for a day and getting something yummy for lunch. Since it's Friday, and it's Lent, I can't eat any meat... not that I eat meat on a daily basis anyway, but still. fish tacos anyone? yum!

It's a friends birthday today... last night i went to go buy her a pair of shoes that she has been wanting. black and white puma's. i never really knew if i liked puma's before, i'd always look at them on the shelf, make the comment that they were either cute or ugly, and then walk out wondering if i would ever buy a pair. Well, ladies and gentleman... i finally bought a pair last night with the help of my friend Jennifer who came with me. it is a good thing because i needed a new pair of shoes. the ones i'd been wearing were very old and the soul was ripping off. anyway, i probably wouldn't have bought them, but they just looked so cute sitting there on the shelf, that i just had to. they are green with silver. i am in my green mode lately. everything green... well, not everything! and not all greens, a certain kind of green. see, i have a

green

sweater from the GAP that i love, my laptop is

green

(thank you DELL!!), i have a green blanket, green pillows, i just threw out a green toothbrush, i like pesto, brocolli and a lot of other green veggies like artichoke, zucchini, green beans, spinach...and now i have

green

shoes. green is just such a nice color. it is so earthy and natural and calm. maybe thats why i like it so much. i used to love blue, i still sorta do, and then purple... but a girl can never really get out of her pink and purple stage. i still do love purple... purple sheets... well, more of a light lavender. purple flowers are nice too.. especially with white and some yellow. if only they had green flowers?!?! would i like them as much? i dont know about that one. Jennifer liked the icyblue and orange ones...she is in an orange stage right now, which is pretty cool. orange is a nice color... i dig it. i liked those shoes too... thought about getting them, but wait... they weren't green!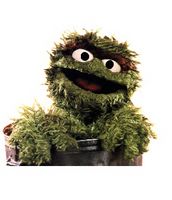 my roomate said last night that she though my new shoes were ugly and they reminded her of Oscar the Grouch. I was sad and tuned her out because i was so excited about my new shoes, but then i realized that she is right. now that i think about it, they are sort of ugly and they do remind me of Oscar the Grouch because the green is nice and fuzzy. but that makes me like them even more! *Oh, happy day for my new green shoes!*
What do you think about my new shoes?